Commercial real estate listing websites place a large amount of valuable information in the hands of CRE professionals, but which site is the best? It depends on your needs. For example, as a broker you want listings exposure; as an investor, you want great opportunities. Or maybe you want cutting-edge tech or an emphasis on foreclosures. Also, since the commercial real estate industry is so competitive, each brand is continuously trying to upgrade to capture more business.

This article will analyze the best commercial real estate listings platforms currently available. Some sites stand out due to their innovative methodology or technology. We'll also provide insight into the ideal use case for each site. Here's the quick list:

1. LoopNet - High Volume Solution
2. CompStak - Comparables Data Source
3. Biproxi - Off-Market Insight
4. Ten-X - High Speed Auction
5. TotalCommerical.com - Bare Bones Value Play
6. eLocations - Tech Retail Site Finder
7. Brevitas - Exclusive, High-End Market
8. PropertyShark - The Foreclosure Finder
9. CREXi - Great Tech & Service
10. Quantum Listing - Social Media Enabled

1. LoopNet - High Volume Solution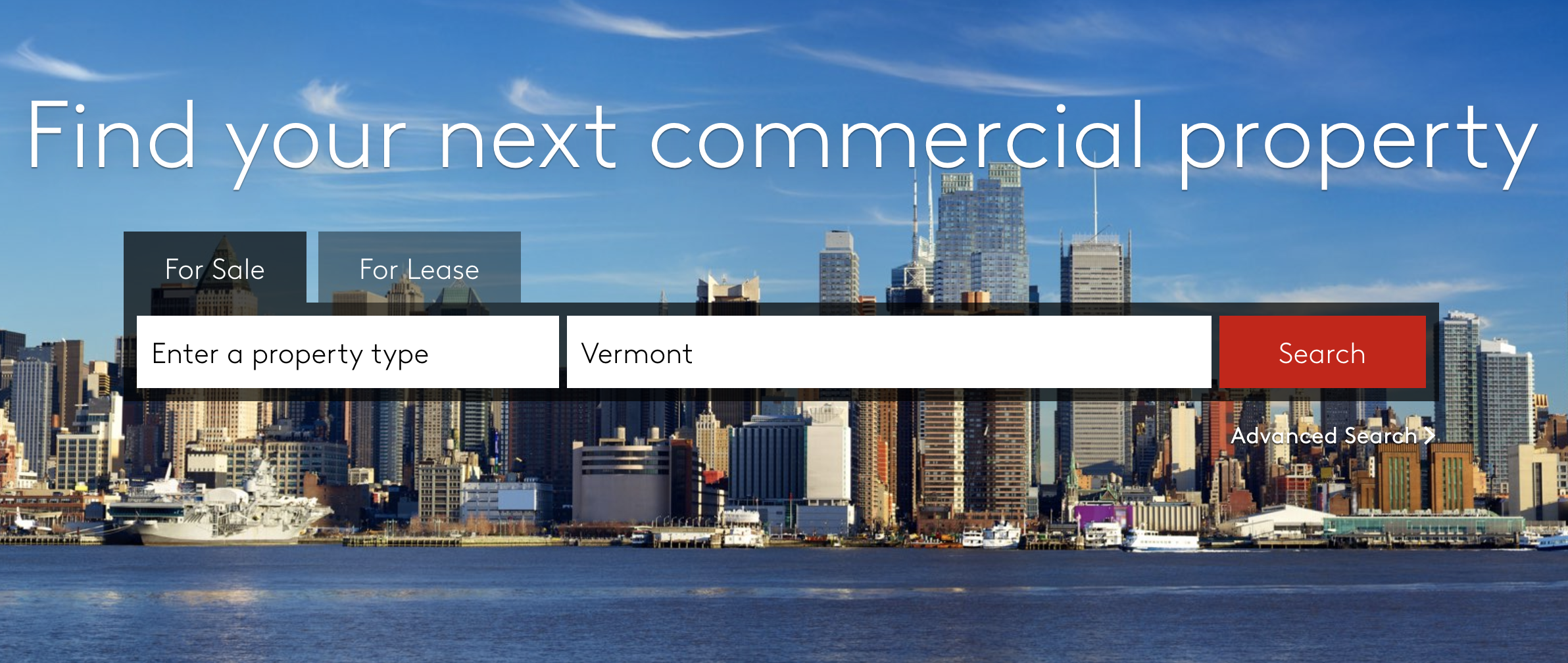 Loopnet is one of the most popular mobile and online commercial real estate marketplaces. This widely used platform connects tenants and investors with commercial real estate available for sale and lease. The site claims to have more advertised properties than any other marketplace with ~500K listings available and 12.6 million monthly site visitors.
Related: Loopnet Alternatives For Online Real Estate Resources
Best Use Case for LoopNet: Users who want to max out visibility

For buying or selling a commercial property, LoopNet provides all the relevant information, such as price, location, square footage, agent contact information, and property photos both inside and out. Many CRE professionals appreciate the high listings visibility provided by the platform. Furthermore, the LoopNet analytics and reporting help users gain deeper insight into who is interested in a particular listing or property.

LoopNet Highlights
LoopNet Limitations
Data accuracy depends on listing agent


High Premium listing cost for max exposure

No property tax information
2. CompStak - Comparables Data Source
CompStak is a US commercial real estate data platform that provides lease and sales comparables. CompStak works by crowdsourcing data from qualified professionals at commercial brokerages and appraisal firms. The company enlists an entire team of data scientists to ensure the highest data integrity possible.

Best Use Case for CompStak: CRE comparables data seekers
CompStak is the leading online comparables data source. Even though CompStak is technically not a commercial real estate listings website, CRE pros can search for lease agreements due to expire soon. In other words, CompStak allows its users to predict which properties and spaces will be available before they are listed. CompStak also provides in-depth real estate market intelligence and analytics. Brokers and appraisers can leverage key information about market trends, custom data sets, and commercial real estate market comparisons. CompStak also specializes in hard to find comps.

CompStak Highlights:
Highly accurate & relevant data on lease and sales comps

Granular detail (up to 80+ details on each comp)

Advanced mapping, reporting, and analytics

CompStak Limitations:

3. Biproxi - Off-Market Insight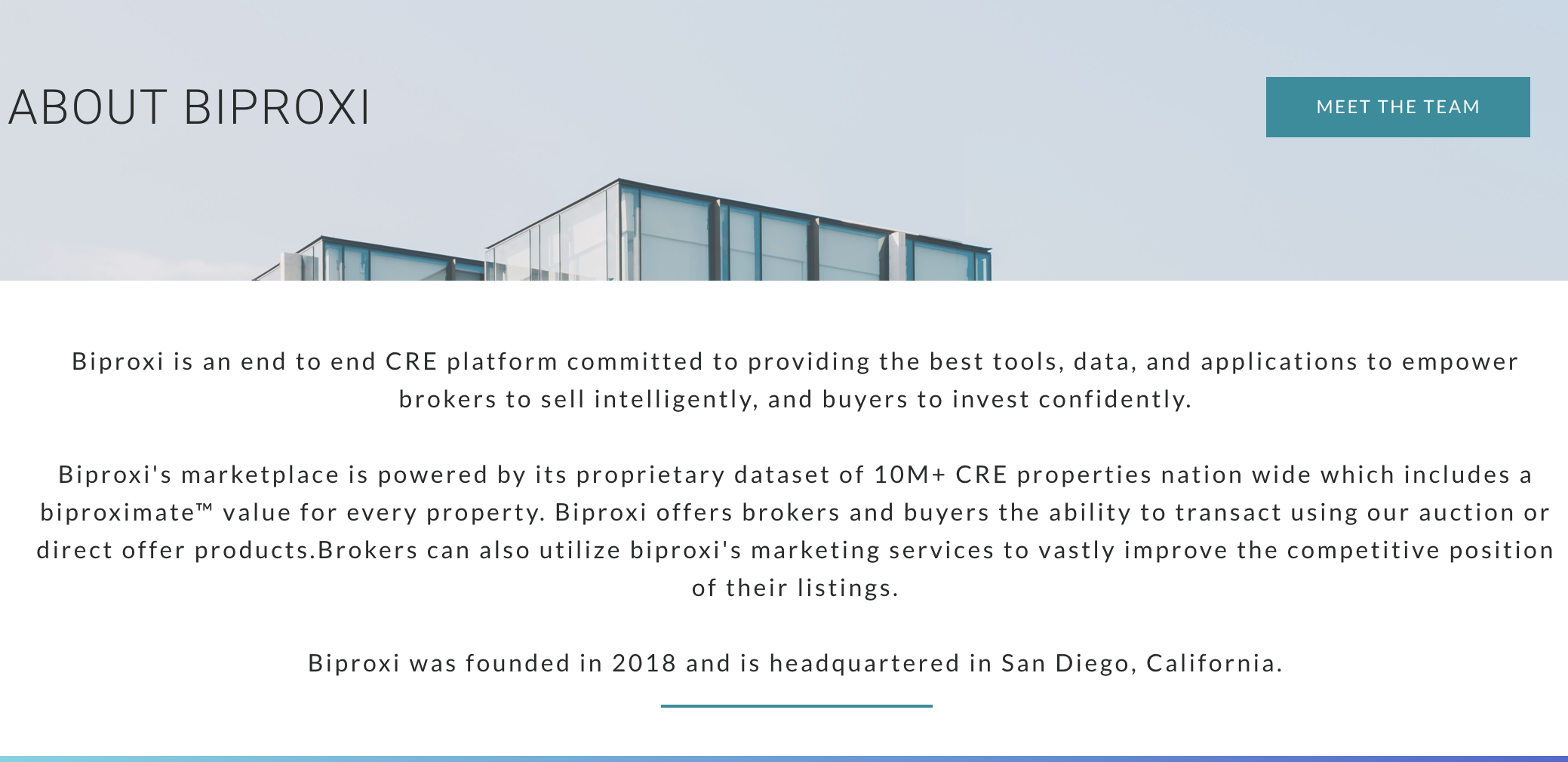 Biproxi is a commercial real estate platform committed to providing tools and data to improve CRE sales and boost investor confidence. The Biproxi marketplace is powered by its proprietary dataset of 10M+ CRE properties nationwide. The site's algorithm provides an approximate value for every property, including those off-market.
Biproxi also enables brokers and buyers to transact using auction or direct offer methods. Additionally, brokers can utilize the site's marketing services to improve listings success. Recently, Biproxi introduced Live Offer™, its new online auction product for commercial real estate properties to offer even more flexibility to brokers.
Best use case for Biproxi: Off-market data seekers
Biproxi implements its algorithmic solution to access property and valuation data on over 32 million off-market commercial properties. The platform combines nationwide property data, complementary information, and historical data to provide unique property-level insight for off-market assets. For those seeking off-market opportunities, Biproxi is an excellent choice.
Biproxi Highlights
End-to-end solution (listings, transactions, and auction)

Off-market CRE expertise

Comprehensive analytics capabilities
Biproxi Limitations
4. Ten-X - The Auction Matchmaker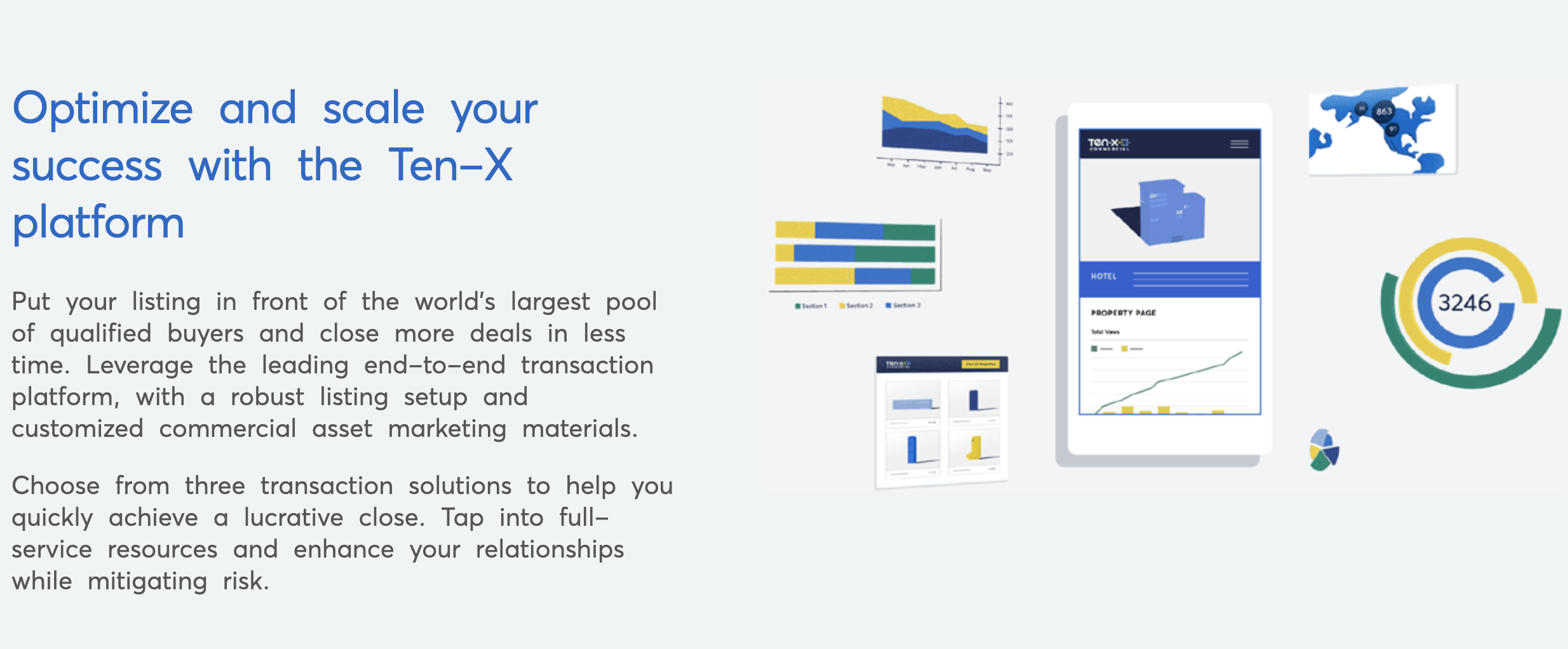 Ten-X is an end-to-end transaction platform for CRE professionals based on an auction format. The site matches users based on their goals and preferred asset types. Ten-X claims to power 90 percent of all online commercial real estate transactions with 400+K fully qualified investors and 3,530 unique page views per property. Ten-X charges a transaction fee equal to a percentage of the winning buyer's offer (sale price) or a minimum, whichever is greater.
Best use case for Ten-X: Advanced auction option
Ten-X fast tracks buyer opportunities by implementing proprietary data and predictive modeling. The platform states that it shortens the time from list to close by 50 percent. Furthermore, transaction automation enables users to manage 20 percent more listings & facilitate 140 percent more CRE transactions annually. Users can participate in live auctions while managed bidding curates a select group of buyers to participate in the live auction event.
Ten-X Highlights
Powerful dashboard control


Properties matched to buying objectives

Live bid and managed bid options
Ten-X Limitations
5. TotalCommercial.com - Bare Bones Value Play

TotalCommercial.com was founded in 1990 (online since 1995) and currently generates $21.2M in annual revenue. The platform's long track record of success is due to a simple interface with a deep value offering. All listings are 100 percent visible to any site visitor, and CREs can post unlimited listings for only $90 per year. Listings are exclusive by licensees and are re-validated every 30 days. TotalCommercial.com also offers an interface, included with subscription, to display listings on the agent's website.
Best use case for TotalCommercial.com: No frills value seekers
For commercial real estate brokers or investors who desire a cleanly presented online commercial real estate listing with no bells or whistles, TotalCommercial.com is perfect. The home page is divided up neatly state-by-state, and from there you can choose from improved property, vacant land, or leasing options. Price, cap rate, and essential data are all visible for free. Commission rate visibility requires a paid membership.
TotalCommercial.com Highlights:
Simple interface

Ultra low cost for unlimited listings

Integrate for free on user website

TotalCommercial.com Limitations

No filtering or advanced analytics

No transaction services

6. eLocations - Retail Site Finder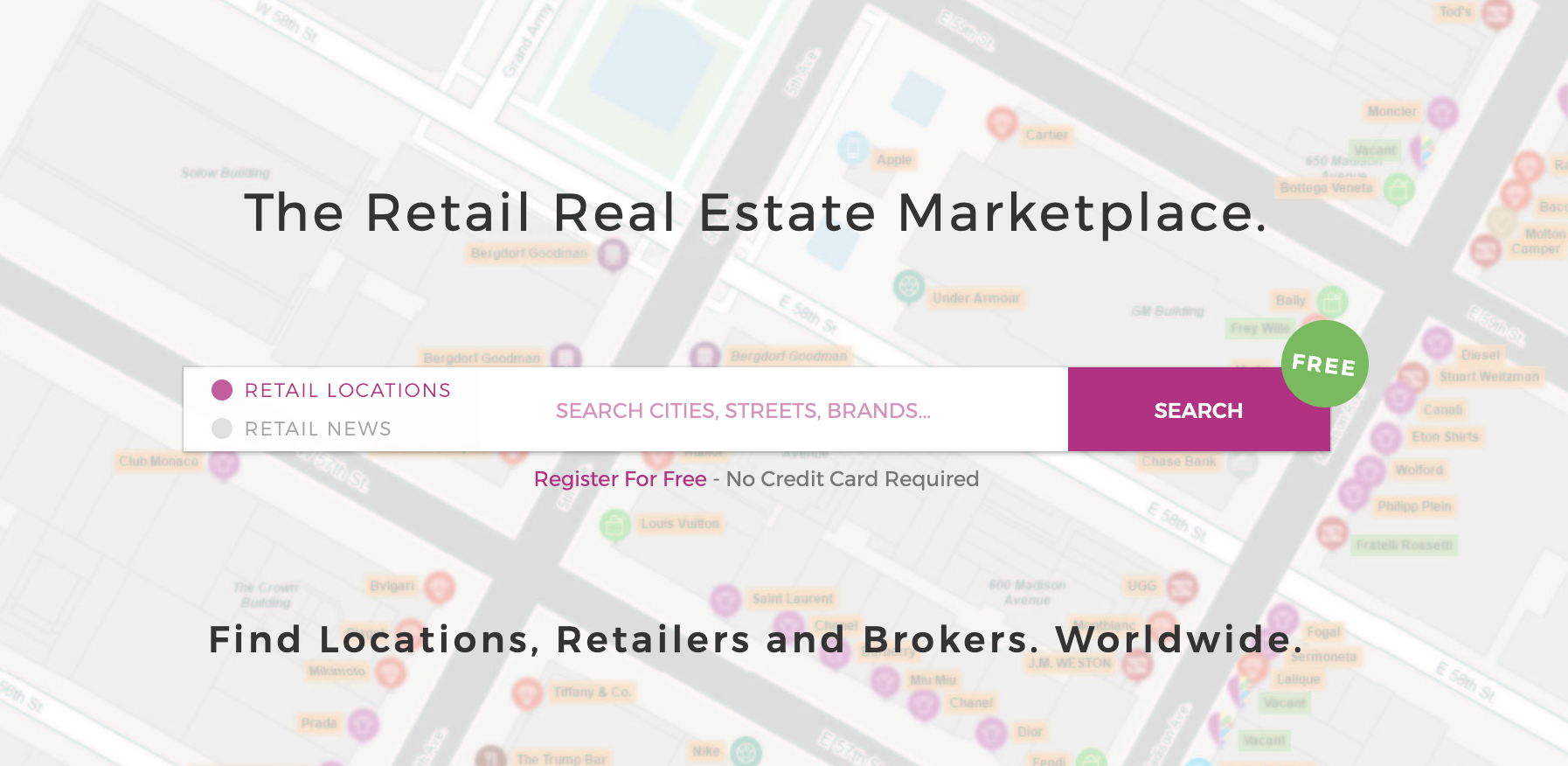 eLocations calls itself the "first global retail property meta-platform" which allows occupiers and brokers to find the right locations for retail brands. The platform also helps negotiate and close deals. The site gathers listings from active brokers, and searches can be filtered by street, size, brand, or broker. In the future, eLocations plans to offer blockchain supported smart lease contracts and decentralize smart property data.
Best use case for eLocations: Cutting edge retail CRE users
The highly interactive eLocation interface reveals all nearby brands for any location on a map view. From there, you can zoom down to street level and even "walk" into the site for a 360 degree interior tour of the location. Footfall and former tenant information make up part of the comprehensive dataset for each listing. Store openings and retailer announcements are included in the site's news feed.
eLocations Highlights
Insightful retail CRE data

Highly interactive search and discovery platform


Deal negotiation help
eLocations Limitations

Currently only in high profile areas

Interior site view under development

The data available for each location is limited

Appear Here is a similar platform dedicated to short-term shop, market, and pop-up store rentals.

7. Brevitas - Exclusive, High-End Market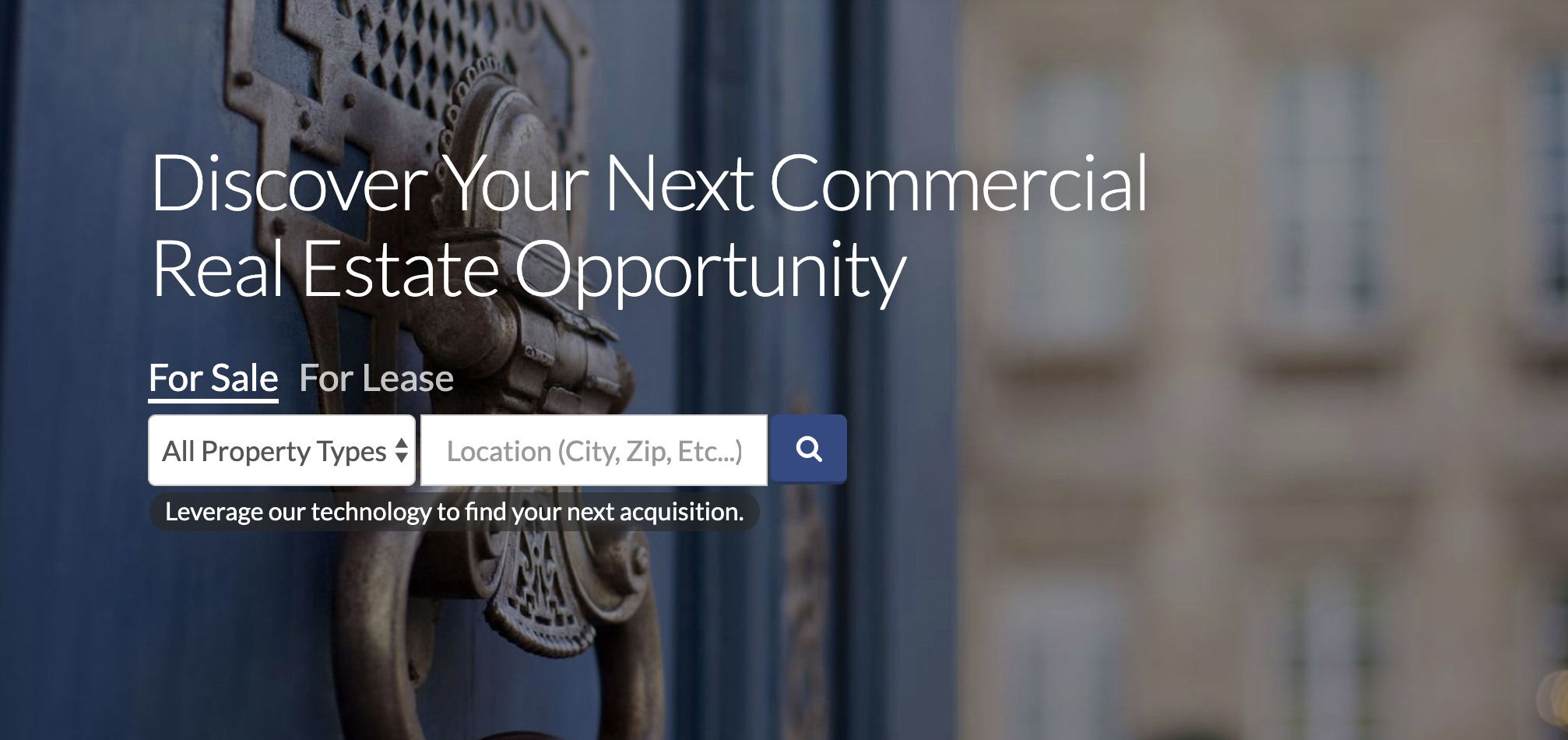 Brevitas is a premium online commercial real estate marketplace, which includes private, open, and off-market listings. Brevitas emphasizes investments and sales of multifamily, retail, office, industrial, development, hotel, and multi-use properties. Brevitas carries a large library of private inventory online and a third of their listings on the site are only visible by verified investors. Brevitas is a global brand with listings in over 60 countries.

Best use case for Brevitas: Upper tier, highly engaged investors

An advanced machine learning algorithm connects Brevitas users with opportunities that align with investor objectives. On the sales side, a comprehensive toolbox is available, including email templates, reporting/analytics, marketing automation, and in-house workflow tools.

Brevitas Highlights
Brevitas Limitations

Only high end assets / pre-vetted investors

Pay to play exclusivity

8. PropertyShark - The Foreclosure Finder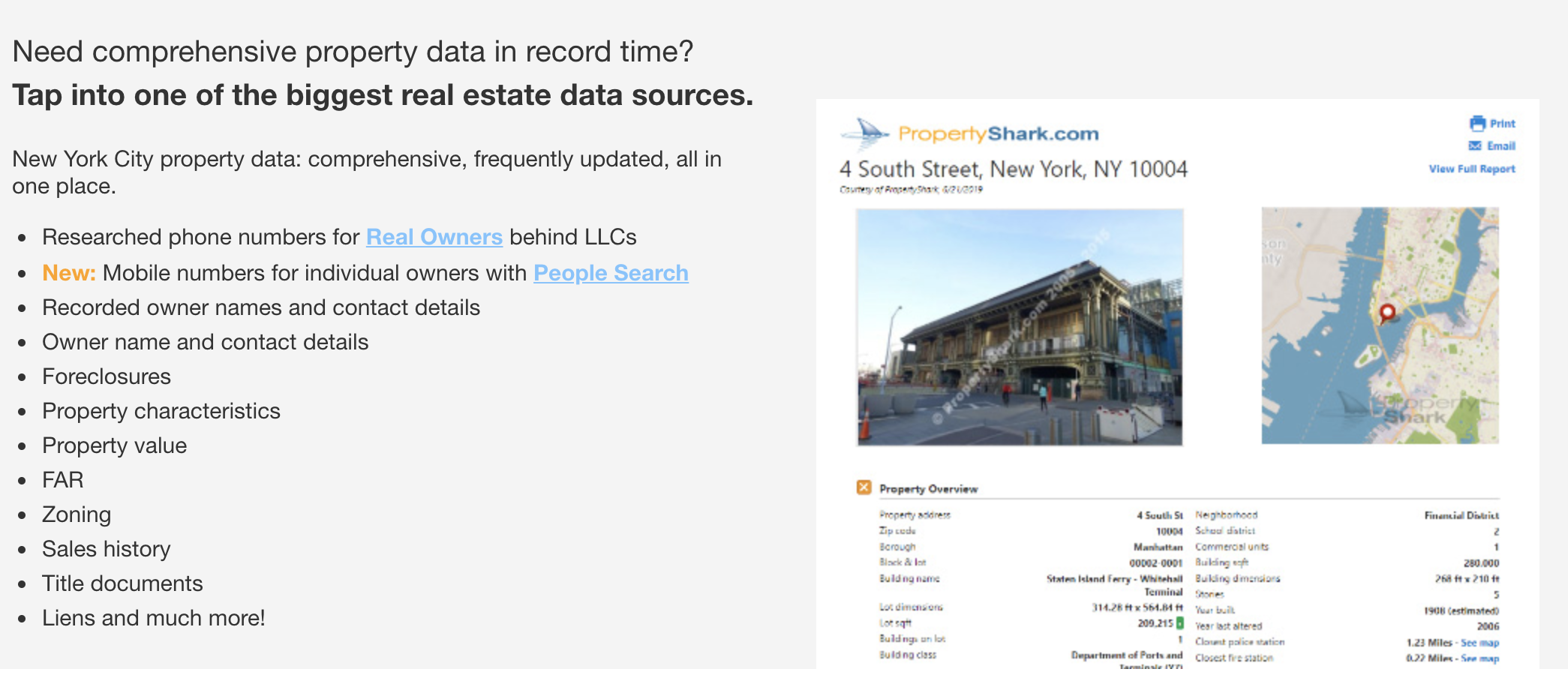 PropertyShark is an online real estate listing provider for US commercial and residential properties. The site is not exclusive to commercial real estate as residential investors can use the platform. While PropertyShark lists many types of properties, the site places a heavy emphasis on foreclosures. The brand has quickly become a media authority on the topic of foreclosures. The brand has quickly become a media authority on the topic of foreclosures.

Best use case for PropertyShark: Looking for foreclosure deals

Foreclosures claim the top spot on the PropertyShark site menu for good reason. For example, the site has 100 percent coverage of New York City foreclosure listings with pre-foreclosures updated daily. Other information, such as lien records, are available to help users complete their due diligence.

PropertyShark Highlights:
Pre-foreclosure and foreclosure emphasis

Provides "real owners" names and contact info

Online foreclosure topic authority

PropertyShark Limitations

User friendly, but may be limited for some professionals

9. CREXi - Great Tech & Service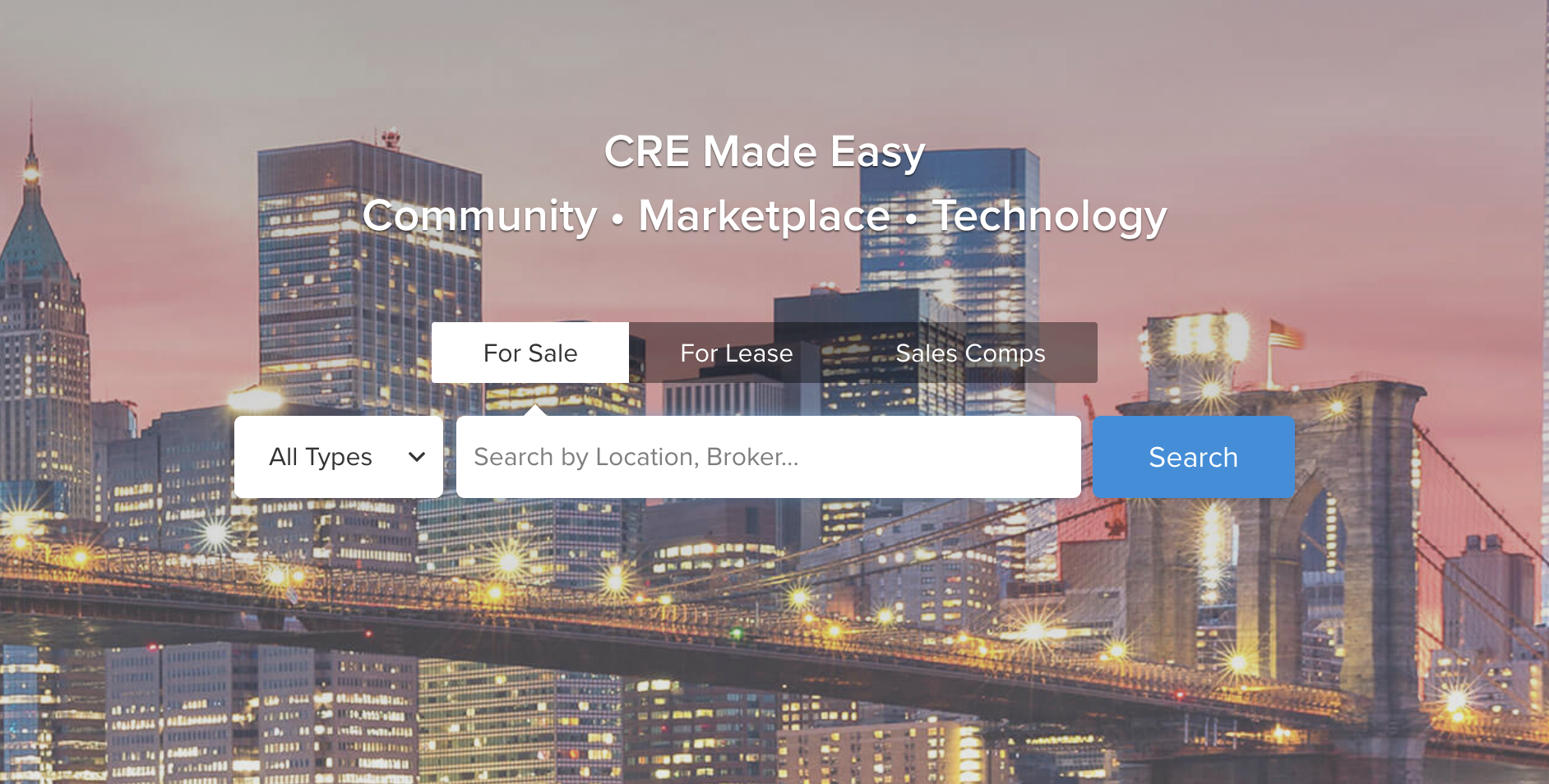 CREXi is a newer online commercial real estate marketplace in direct competition with LoopNet. Some say CREXi outperforms LoopNet when it comes to listings exposure. The CREXi platform provides easy-to-use tools to manage deals from listing to closing. CREXi is present in 50 major US metropolitan areas and continues to grow.

Best use case for CREXi: Superior customer service and tech alternatives

CREXi is well known for its friendly, hands-on customer service. Plus, the platform offers an active sales and leasing marketplace, with marketing, analytics, and deal management tools. CREXi enables brokers to find, manage and qualify leads, market properties with customizable emails, and communicate with interested parties through in-app messaging.
CREXi Highlights
Outstanding customer service

User-friendly interface

Consolidates entire CRE processes

CREXi Limitations
Database size limitations may not meet needs in all areas

Data filtering needs to be refined

10. QuantumListing - Social Media Enabled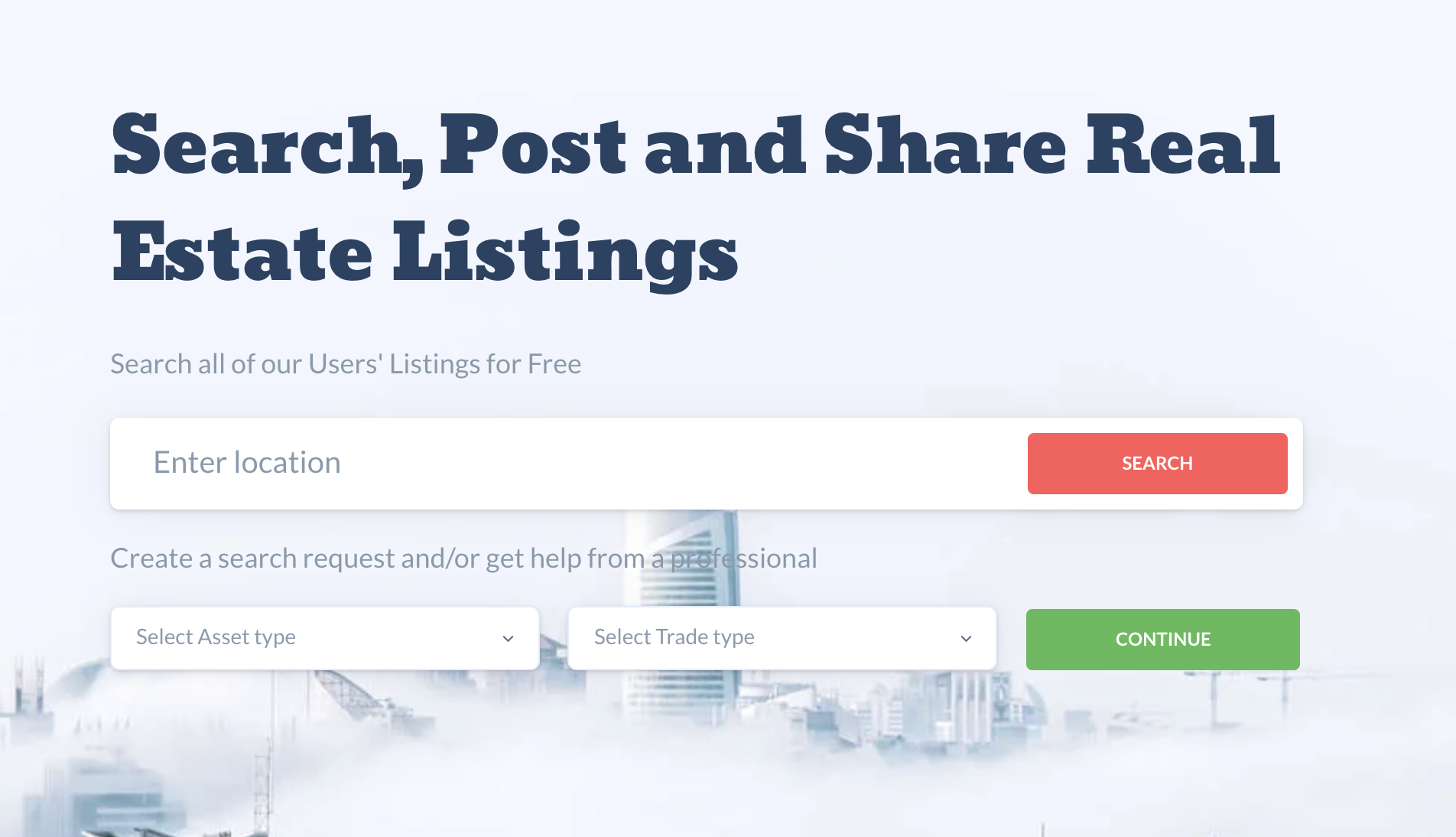 QuantumListing is the place to search, post, and share commercial real estate listings. The platform's listings are searchable and viewable to all users. This includes key information such as price, sq. feet, date available, location, and contact information. For users that want to post listings, membership fees start at $79.99 per agent per year. The site states that all listings are treated equally, regardless of membership status.
Best use case for QuantumListing: Social media leverage
As QuantumListing is all about free visibility, it comes as no surprise that it emphasizes social sharing. The site makes it easy (and free) to share listings via LinkedIn, Twitter, Google+, and Facebook. QuantumListing also shares user listings on the company's social media accounts.
QuantumListing Highlights
QuantumListing Limitations
No way to boost visibility

No data verification process